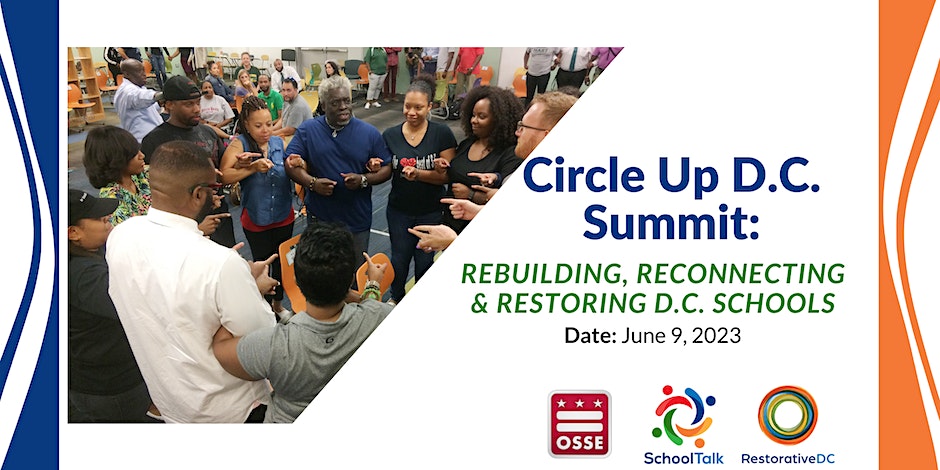 About RestorativeDC | Services | Bring RJ to Your Community | What is RJ? | Trainings for D.C. Schools | Resources | Circle Up DC Podcast | www.restorativedc.org | Circle Up DC Summit
Rebuilding, Reconnecting & Restoring D.C. Schools
Date: Friday, June 9, 2023
Time: 9:00 a.m. – 3:00 p.m.
Format: In-Person
Location: Hill Center at the Old Naval Hospital (921 Pennsylvania Avenue SE, Washington, DC 20003)
ADA-Accessible Entrance: On 9th Street SE
Metro: Eastern Market (Blue, Orange, Silver Lines)
Parking:
Colonial Parking – Lot 660 (Parking, 600 Pennsylvania Avenue SE, Washington, DC 20003) $9/hour, $17 max
Free parking (very limited spaces available) – 306 7th Street SE
Metered parking, as available
Non-metered (residential) street parking – Most non-metered parking in this area requires a Zone 6 permit to park for more than two hours or to park at all. Please read all parking signage carefully.
Parking may be challenging in this area. Traveling by Metrorail, Metrobus, or ride share is highly recommended.
---
About the Circle Up DC Summit
Don't miss this chance to join the conversation and connect with other educators and community partners who share your commitment to rebuilding, reconnecting, and restoring D.C. schools!
Join us for a powerful day of in-person community building, reflection, and restorative justice at the Circle UP DC Summit. The Summit is designed for school leaders, educators, student support staff, community partners, youth, and families who are committed to building resilient school cultures, addressing violence, and sustaining social-emotional learning.
We will demonstrate the power of restorative circles, create a peer-learning space, and connect educators and community partners with resources to support implementing restorative justice in their schools. Through reflection and visioning, we will explore what is happening on the ground for educators, students, and families and identify needs for the upcoming school year.
---
Restorative Justice Innovators Award
We are excited to present the Restorative Justice Innovators Award to three individuals working in public and public charter schools in the District for the 2022-23 school year! We ask schools to nominate individuals in their schools who have demonstrated a commitment to restorative justice and practices in their community. The awards will be presented at the Circle Up Summit on June 9, 2023.
As you think over the past school year and complete the nominee information, consider how your nominee has demonstrated a commitment to implementing restorative practices in your schools in line with the following principals:
Creating a Just & Equitable Learning Environment
Nurturing Healthy Relationships
Repairing Harm & Transforming Conflict
Please complete the nomination form by June 7, 2023.
---
Circle Up DC Summit Agenda
9:00 – 9:30 – Arrival & Check-In
9:30 – 10:00 – Welcome and Introductions
10:00 – 12:00 – Morning Session

Uplifting Educators Fishbowl Circle

Community Building Circlets

12:00 – 1:00 – Lunch (provided)

1:00 – 1:30 – Celebration & Recognition

1:00 – 2:45 – Afternoon Sessions

Engaging Youth as Community Builders

Facilitated by Columbia Heights Education Campus Our School Our Voice Student Group
Leading Change in your School & Implementing Restorative Justice
Networking & Resources

2:45 – 3:00 Closing