Secondary Transition Community of Practice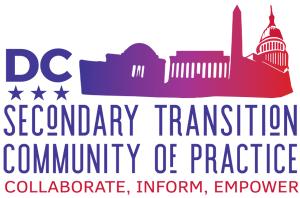 The D.C. Secondary Transition Community of Practice supports D.C. youth with disabilities as they transition into a self-directed life. We are a citywide, cross section of stakeholders who come together to strengthen our individual and collective ability for action. This community of practice is led by SchoolTalk's InclusiveDC and funded by the D.C. Office of the State Superintendent for Education.
School Year 2022-23 Schedule
Sessions are scheduled once a month on a Friday from 10:00 a.m. to 11:30 a.m. Register to attend any or all of our monthly meetings. All meetings are virtual via the Zoom app. Come back soon for updates on monthly meeting topic information.
Register for our monthly meetings!
Upcoming Meetings
May 19, 2023 – Family Advocacy for Transition Aged Youth
June 16, 2023 – Looking Back & Forward Planning (In-Person)
Previous Meetings
March 17, 2023
Improving Transition Assessment and Planning Processes
February 17, 2023
Engaging Businesses in Work-Based Learning Experiences
January 20, 2023
2023 Kick Off Meeting
July – December 2022
On hiatus
March 25, 2022
Embracing Technologies that Enable Amazing Possibilities
February 18, 2022
Community Dialogue: How do we know what our students need right now?
December 17, 2021
High-quality Work-Based Learning Experiences (WBLE) for students with complex support needs
November 19, 2021
Equitable access to Career & College Readiness (CCR) programs for students with disabilities
October 15, 2021
Districtwide shift from siloed transition planning to equitable and inclusive Career & College Readiness (CCR) programming for all students, including students with disabilities
September 24, 2021
D.C. Interagency State Plan SY 2021-22