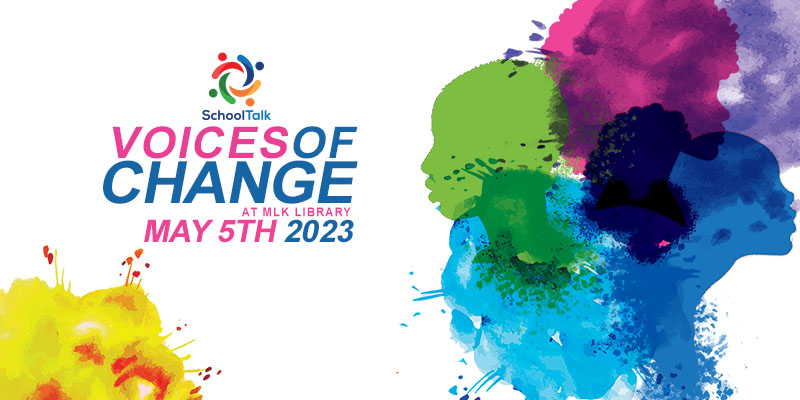 On May 5, 2023, SchoolTalk brought back the in-person Voices of Change Conference!
Voices of Change is for D.C. high school students with disabilities to gain knowledge and skills to lead self-determined lives through opportunities to learn, lead, and act. This year's theme is Create Change, specifically as it relates to disability awareness, self-expression, and career exploration.
When: Friday, May 5, 2023  |  10:00 a.m. – 2:00 p.m.
Where: Martin Luther King Jr. Memorial Library  |  901 G Street NW, Washington, DC 20001
Eligibility:
D.C. high school students with disabilities, including students with Individualized Education Programs (IEPs) or 504 Plans
This is a Pre-Employment Transition Service (Pre-ETS), funded by the D.C. Rehabilitation Services Administration (RSA). Completion of PRE-ETS consent forms for students is highly encouraged.
---
Agenda At-A-Glance
Opening Plenary – Voice of Change will open with a high-energy plenary session featuring performers, a youth DJ, and brief framing remarks.
Breakout Activities – Youth will rotate through several opportunities:

Exhibit Hall with a focus on careers that create change, mini-informational interviews with professionals, time with community vendors and service providers, and information on entrepreneurship
Exploratory Stations led by students with disabilities with a focus on hands-on learning.
DC Public Library Tours hosted by the library's Center for Accessibility (limited slots available)

Closing Performance & Lunch – Voices of Change will wrap up in this session with a call to action and youth performers.
---
Special Thanks to Our Partners & Funders
DC Department on Disability Services' Rehabilitation Services Administration
DC Public Library Center for Accessibility
John F. Kennedy Center for the Performing Arts