Creative Careers Training Program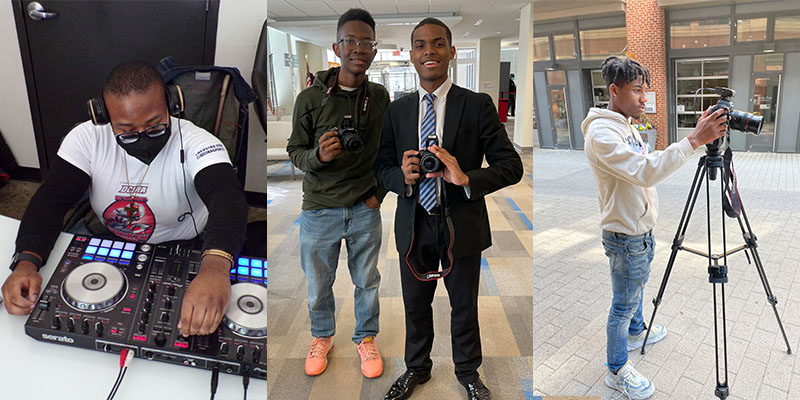 About Creative Careers
Washington DC is ranked #1 in the country for the highest concentration of jobs in the arts, design, entertainment, sports, and media industries and is the top-paying state (by annual mean wage) for jobs in this field, according to the U.S. Bureau of Labor Statistics.
About the Program
SchoolTalk's Creative Career Training Program supports the successful transition of D.C. high school students with disabilities by providing a safe space with access to state of the art equipment for them to use to express themselves, understand how their stories and experiences can help others, and gain marketable skills that can open doors to a range of creative careers in photography, videography, and music production.
Programming is delivered by a dynamic team of award winning, professional artists, most of who are native Washingtonians, including:
SchoolTalk: Named one of The Kennedy Center's Next 50, a select group of 50 organizations and leaders leading the way toward a more inclusive, inspired, and compassionate world.
Asheru: First hip hop artist to receive the prestigious Peabody Award, creator of theme song for the The Boondocks, U.S. Cultural Ambassador (State Department)
Konshens the MC: Recipient of the Grammy Academy Community Award, U.S. Cultural Ambassador (State Department), and UNCCD Land Ambassador
Will Starks: Named in Top 5 Photographers in Washington, DC – RAW Artists Awards
Teaching artists collaborate with youth to create original pieces and coach youth in industry standards, in building technical skills, and in developing electronic portfolios that package their experiences, skills, and more.
Cohorts
The Creative Career Training Program includes three cohorts. During the application process, youth will be asked to select ONE cohort that aligns with their interests, experiences, and career goals. Students accepted into each cohort will form a small group focused on learning the essentials of that industry.
Music production: Students will gain hands-on coaching in creative writing as they develop their own styles and learn to express themselves using words. They will have the opportunity to record audio in a professional recording studio, will learn the basics of audio production, will explore industry standards and best practices, and will collaborate with peers and professional artists to produce original pieces.
Photography: Students will learn to use professional DSLR cameras to capture images. They will learn the theory and application of photography, including camera functions, types of headshots, composition, subject, lighting, and an introduction to photo editing software. They will collaborate with peers and professional photographers to create original pieces.
Videography: Students will learn the key skills needed to enter the videography industry. They will gain knowledge and skills in all three of the videography processes including pre-production, production, and post-production. Specifically they will gain technical skills in storyboarding, equipment set up, video filming and editing. They will collaborate with peers and professional videographers to create original pieces.
Time Commitment
Students participate in 20-25 hours of programming between January – March. The program schedule will be created to best meet the needs of the accepted group of students for this cycle. All sessions will be scheduled outside of regular school hours.
Location
We will use a hybrid model that includes weekly one-hour virtual check-ins and three to four-hour sessions on Saturdays. The session location will be Metro accessible and shared with accepted participants. Youth or their families are responsible for transportation to and from sessions. Metro SmartTrip cards are available upon request.
Public Health & Safety Considerations
Programming will be conducted using a hybrid model of in-person and virtual sessions. Most sessions will be in person. SchoolTalk follows D.C. government guidance for Covid-19.
We Pay Youth
Programming is FREE to participants!!! In fact, SchoolTalk will pay a stipend to students who complete at least 20 hours of programming!
Eligibility Requirements
Participants must meet the following criteria to be eligible to participate.
14 to 22 years old.
Currently enrolled in a D.C. high school.
Have an individualized education program (IEP) or 504 plan.
Complete required RSA documentation prior to project start date.*
Strong interest in pursuing a creative or artistic career, including careers in music production, photography, or videography.
Demonstrated experience in one of the following (Experience can be formal training, such as classes, shows, performances, or it can be informal experience as a self-taught artist, such as creating music or beats on Garage Band, writing poetry, and more).

Music Production, such as song writing, spoken word, song recording, or audio production.
Photography, such as digital photography, film photography, or photo editing
Videography, such producing and editing music videos, animated videos, or stop-motion videos

Must be able to participate in at least 20 hours of coaching sessions between February and March 2024.
Youth (and a parent/guardian if the applicant is under 18) must participate in a mandatory information session about program requirements.
Please note, this program will be able to accept up to 10 youth per cohort. Not all applicants will be accepted to this program. Applicants that do not meet the above listed requirements will not be considered. Priority and waiting lists will be created as needed. SchoolTalk offers various projects throughout the year. If you are not accepted into this project but would like to receive information about other projects, please let us know at [email protected].
*This is a Pre Employment Transition Service (Pre-ETS), funded by the D.C. Rehabilitation Services Administration (RSA). Upon acceptance, SchoolTalk can support youth to complete their RSA documentation.
Youth Content Examples
Curious what kind of projects youth have created with SchoolTalk in the past? Check out this example!
Information Sessions
Do have questions about the program or need help with the application? Please join us for one or more of our virtual 30-minute information sessions.
December 4, 2023 02:30 PM
December5, 2023 04:30 PM
December6, 2023 05:30 PM
December 7, 2023 12:00 PM
Application
Application deadline: December 10, 2023
Questions & Contact Information
Not sure if this project is right for you? Contact us at [email protected] or 202-487-1976.