Getting Real About Restorative Justice:
Busting Myths & Understanding Implementation
Circle Up DC is SchoolTalk's RestorativeDC podcast, where we have real conversations about the opportunities and challenges of implementing restorative justice in District of Columbia schools. Hear local restorative justice practitioners share their expertise and learn from their journeys. If you're looking for practical tips and resources for implementing restorative justice in education spaces, this podcast is for you!
Listen in the embedded player below or at any of the following podcast platforms: Apple Podcasts, Spotify, Google Podcasts, Amazon Music, iHeartRadio, and most major podcast services.
---
Episode 3: Using Restorative Practices to Create Community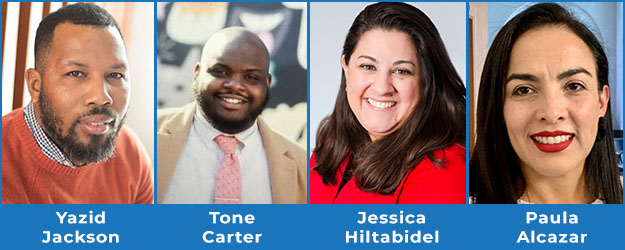 Featuring: Yazid Jackson, RestorativeDC Director, SchoolTalk; Tone Carter, Social Worker, Sojourner Truth Montessori Public Charter School; Jessica Hiltabidel, Director of Culture, Equity, and Access, Inspired Teaching Demonstration School; Paula Alcazar, SART Specialist and School Behavioral Health Coordinator, Carlos Rosario International Public Charter School
How do restorative practices support community building inside and outside our school buildings? Join us as we explore using restorative practices to build positive school culture and climate. Our guests highlight the work they're doing to build broader and deeper school communities, the benefits to doing so, and the data that supports their work. Don't miss out on meaningful practices in D.C. schools that support family engagement and community partnership development!
Thanks and Attributions: Intro music by GevStudioX via Envato Market; opening quote by Margaret J. Wheatley; closing reflection quote by Justice Sonia Sotomayor
Continued Reading: Fostering Belonging, Transforming Schools: The Impact of Restorative Practices by Sean Darling-Hammond
SchoolTalk's RestorativeDC Resources: Facilitating a Virtual Community-Building Circle (video)
---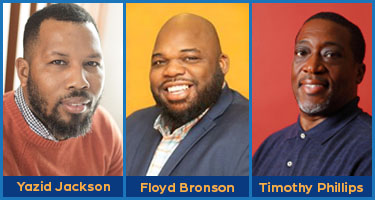 Episode 2: Voices of Black Male Educators as Disciplinarians in School
Featuring: Yazid Jackson, RestorativeDC Director, SchoolTalk; Floyd N. Bronson, RestorativeDC Program Coordinator, SchoolTalk; Timothy Phillips, Dean of Students, Cesar Chavez Public Charter Schools for Public Policy
Take a deep dive into the experiences of black male educators as they navigate their roles as teachers, role models, authority figures, and disciplinarians in D.C. schools. Our featured panelists share the value they bring to schools as black educators, while offering a crucial counterpoint that schools often over-rely on black educators for discipline without acknowledging and nurturing these professionals' gifts, passions, and career aspirations. How do you take all of this into account when creating more positive school cultures and climates?
Thanks and Attributions: Mindful moment poem – "Not Because We Are Black" by author unknown; closing reflection quote by Rita Pierson
Continued Reading: Black Men of the Classroom: An Exploration of How the Organizational Conditions, Characteristics, and Dynamics in School Affect Black Male Teachers' Pathways into the Profession by Travis Bristol  |  Why Black Male Teachers Matter by Angela Callahan
SchoolTalk's RestorativeDC Resources: Episode Transcript (coming soon) | School Discipline: A Restorative Approach (video)
---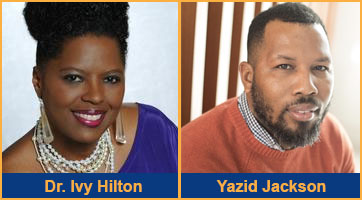 Episode 1: The Fabric of Restorative Justice
Featuring: Yazid Jackson, RestorativeDC Director, SchoolTalk; Dr. Ivy Hylton, President & CEO, Youth & Families in Crisis

We are kicking off our podcast series by considering the fabric of restorative justice through the framework of responsibility, accountability, and supporting a shift in the adult mindset in D.C. schools. Yazid and Mama Ivy discuss their restorative justice roots and their philosophy for implementing this work in schools.
Thanks and Attributions: "Circle Poem" by William Tweed Kennedy. Reflection quote from Peacemaking Circles by Kay Pranis, Mark Wedge, and Barry Stuart. Special thanks to Inaam Avant for getting us started.
Continued Reading: The Little Book of Restorative Justice in Education: Fostering Responsibility, Healing and Hope in School (Revised and Updated 2022 Edition) by Katherine Evans and Dorothy Vaandering.
SchoolTalk's RestorativeDC Resources: Episode Transcript (pdf) |  Introduction to Restorative Practices (video) | Core Processes of Restorative Justice Circles (video)
---
Series Credits
Producers: Ahmed Aldawa, Inaam Avaant, Abby Moser, Lisa Shaw
Editing: Abby Moser
Opening & Closing Music: Marc Brown, Shane Outlaw, Javani Ramos
Opening & Closing Voice Over: Floyd N. Bronson
Funded by: DC Office of the State Superintendent of Education