RestorativeDC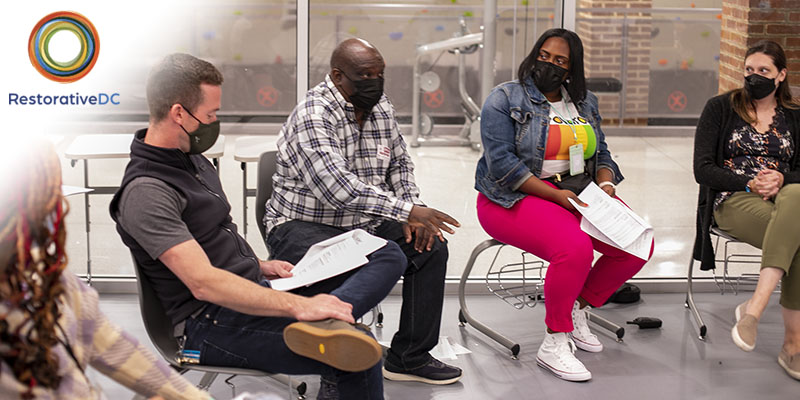 About RestorativeDC | Services | Bring RJ to Your Community | What is RJ? | Trainings for D.C. Schools | Resources | Circle Up DC Podcast | www.restorativedc.org | Restorative Justice Learning Group
---
About RestorativeDC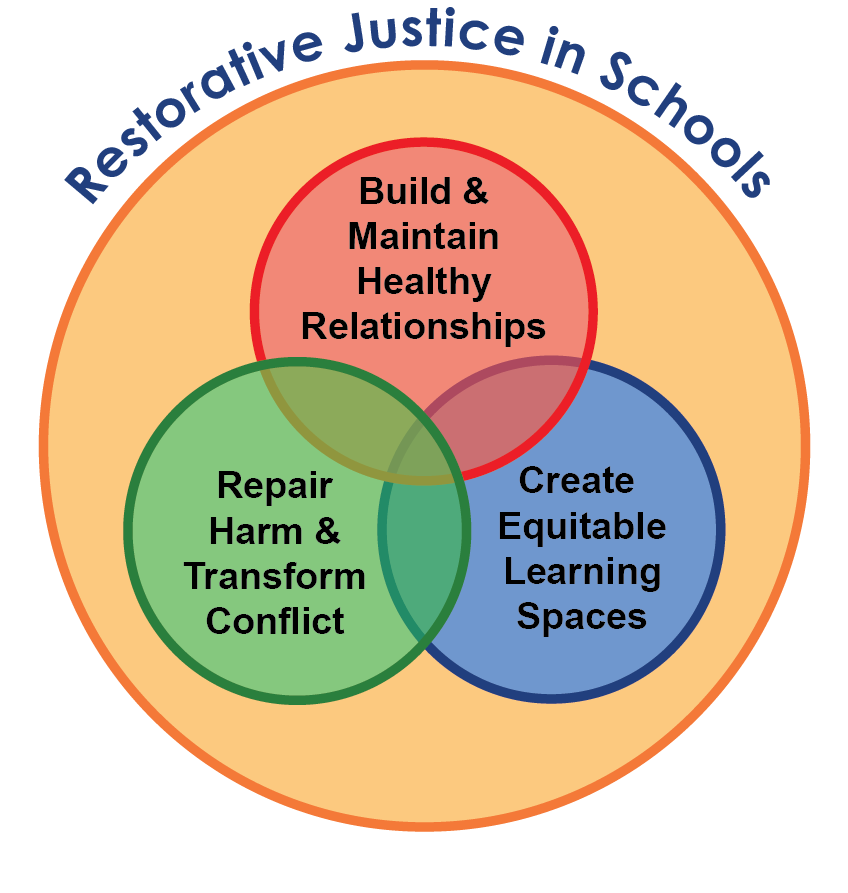 Since 2015, SchoolTalk's RestorativeDC has introduced and supported restorative practices in schools in the District of Columbia and beyond. In partnership with public and public charter schools and community organizations, RestorativeDC has helped 86 schools foster positive, more inclusive school climates, while mitigating educational inequities and promoting school safety.
Our team has a deep knowledge base that spans multiple restorative justice models and practices. The team has complementary expertise in social work, drama therapy, non-violent communication, positive discipline, coaching, trauma-informed practices, special education, and more.
---
RestorativeDC Services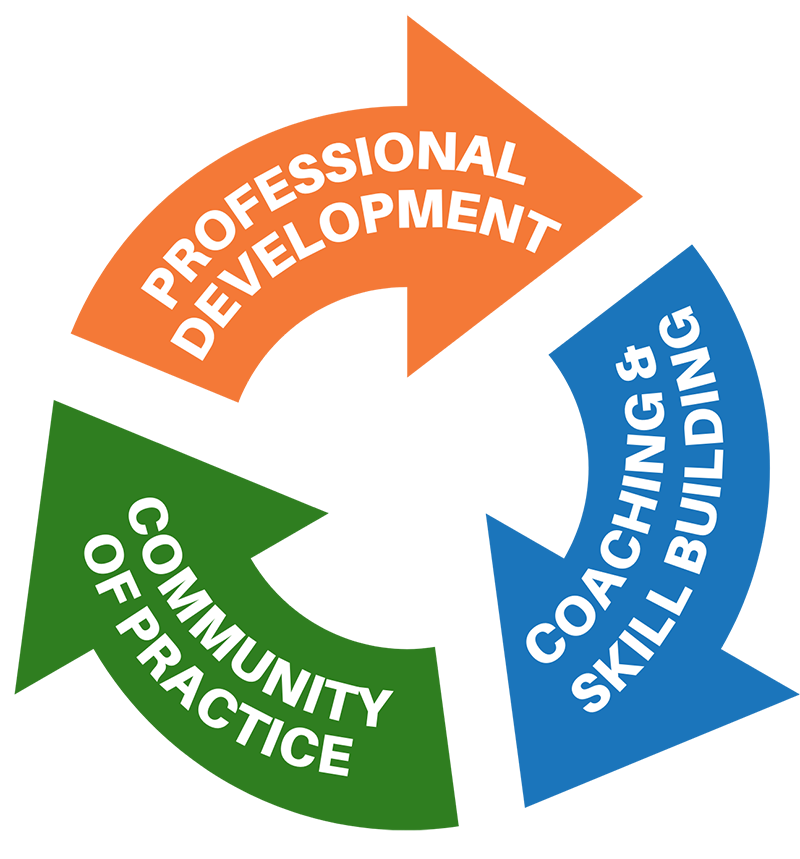 SchoolTalk's RestorativeDC provides technical assistance, coaching, and training services to individuals and schools. These services respond to schools' unique contexts, priorities, and needs. RestorativeDC's services focus on growing the individual capacity of youth-serving professionals and enhancing the organizational capacity of schools and supporting organizations.
Organizational & Schoolwide Change
Based on research and implementation science, we know that significant organization-level change requires attention to staffing, policies, and schoolwide practices aligned to restorative principles. RestorativeDC supports schools in this effort through Targeted Technical Assistance and Whole School Implementation.
Whole School Implementation
Meaningful and sustainable implementation of restorative justice requires time, resources, and a strong commitment from school leaders, staff, and the wider school community. RestorativeDC provides intensive and collaborative technical support and coaching over three to five years for schools ready to make a long-term commitment to integrating restorative justice into their overall philosophy and school culture. The Whole School restorative model touches all members of the school community and their relationships with each other. The Whole School approach includes seven key focus areas at the core of this transformative work.
Focus Areas
Leadership
Staff Engagement
Positive School Culture and Climate
Restorative Discipline, Policies, and Practices
Youth Engagement
Community Engagement
Assessment
Diversity, Equity & Inclusion
Targeted Technical Assistance
RestorativeDC provides school-level customized support to address a specific critical need, identifying the root causes of concern and developing a tailored solution. Targeted Technical Assistance provides support and guidance implementing restorative practices in response to a specific critical need. This is a customized offering, and the scope of services varies depending on school needs and capacity.
Popular Topics
Understanding Restorative Justice & Your School
Tier 1 Restorative Justice
Restorative Justice in the Classroom
Restorative Justice Student Behavior & Discipline
Restorative Justice & Students with Disabilities
Restorative Justice for Teacher Retention
Individual Capacity Building for School Staff, Families & Students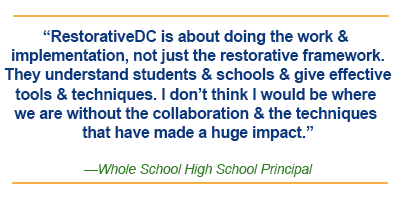 These activities focus on shifting mindset, building skills and practices, and coaching on how to use these skills within specific school situations and settings.
Trainings and Workshops
RestorativeDC offers a series of trainings and workshops to introduce and explore key elements of restorative justice. The sessions are highly participatory, allowing school staff to immerse themselves in restorative practices through guided exercises, role plays, and other experiential learning opportunities.
Common Topics
Restorative Schools Overview
Proactive and Responsive Circle Keeping Skills
Restorative Communication, Trauma Awareness and Resilience
Restorative Justice for Younger Learners
Restorative Justice and Special Education
---
Bring Restorative Justice to Your Community
Contact us directly to bring RestorativeDC to your school or organization!
Public and public charter schools in the District of Columbia, should inquire about services that may be covered by funding from the DC Office of the State Superintendent of Education.
---
What is Restorative Justice?
Restorative justice is a philosophy and set of supporting practices that center a community on equitable and inclusive relationships of trust, understanding, and collaboration. It has its roots in indigenous approaches to living in relationship with others, including traditions of storytelling in circle and reintegration of those who have harmed others within the community. These practices are trauma-informed and provide opportunities for social-emotional learning for students, school staff, and families. Restorative practices seek to address the root causes of student behavior issues and give students and staff the tools and strategies they need to repair and improve relationships and communication, thus providing the foundation for learning to occur for all students.
Latest Research
A growing body of research indicates promising results of restorative justice approaches impacting school climate, student behavior, and relationships among students and with staff. Learn more in our recent evaluation, Restorative Justice in D.C. Schools: Impact of SchoolTalk's RestorativeDC from Pre-Pandemic Through Recovery.

---
About RestorativeDC | Services | Bring RJ to Your Community | What is RJ? | Trainings for D.C. Schools | Resources | www.restorativedc.org