Arts to Advocacy
School-Based Workshop Series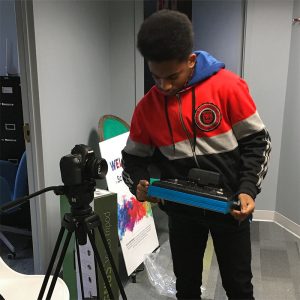 SchoolTalk's Arts to Advocacy School-Based Workshop Series supports the successful transition of D.C. high school youth with disabilities by helping them build self-awareness and self-expression skills while learning technical skills needed to pursue creative careers and transform a hobby into a hustle. Youth explore the artistic process, creative voice, and arts-related careers via class-based expert instruction tailored to your schedule and youths' needs. Funded by the D.C. Department on Disability Services' Rehabilitation Services Administration, SchoolTalk provides this programming at no cost to teachers and schools.
This is a Pre Employment Transition Service (Pre-ETS), funded by the D.C. Rehabilitation Services Administration (RSA). SchoolTalk schedules class-based series on a first-come, first-served basis, dependent on all participating youth completing required RSA documentation prior to the start of the first workshop.
.

Offerings

Each series consists of one to four one-hour workshops. We are available to provide programming in person at your school, virtually, or a mix of virtual and in person. In each series, youth develop self-awareness and practice self-expression through building technical skills and explore careers in various art forms.
Self-Expression Through Photography Series
Self-Expression Through Videography Series
Self-Expression Through Shoe Design Series
Self-Expression Through Music Production
Questions & Contact Information
Not sure if this project is right for you? Contact Naisha Dembele at [email protected] or 202-321-9850.